I'll finish my Ladybug story another day...I don't think too many folks are exactly on the edge of their seats over it.
I had a long day at work yesterday, and it was one of those times that I didn't feel like driving the 45 minutes to the barn. It was cold, snowing, and dark, and I could envision my nice warm house, a yummy meal cooked up by the hubby, and an early snuggle into my bedcovers. But, I hadn't been to the barn in over a week, was missing my gelding, and really wanted to get my client horses back to work. I had pre-arranged for 3 clients to come out at different times and for us to have an impromptu group lesson. After everyone arrived, I'm sure it was quite comical watching us try to piece together enough equipment for us to have that many horses working at one time. We had a lot of good laughs, and although it took us almost 30 minutes to get all the horses ready, it was fun and relaxing.
One of my clients in particular had not been out in a couple of months, as she has a family, and is studying law. I have been working her Arab for her, and putting some WP time on him, so I was looking forward to showing her his new moves. This is him below, hanging out in his paddock with my gelding, CJ. Isn't he a looker???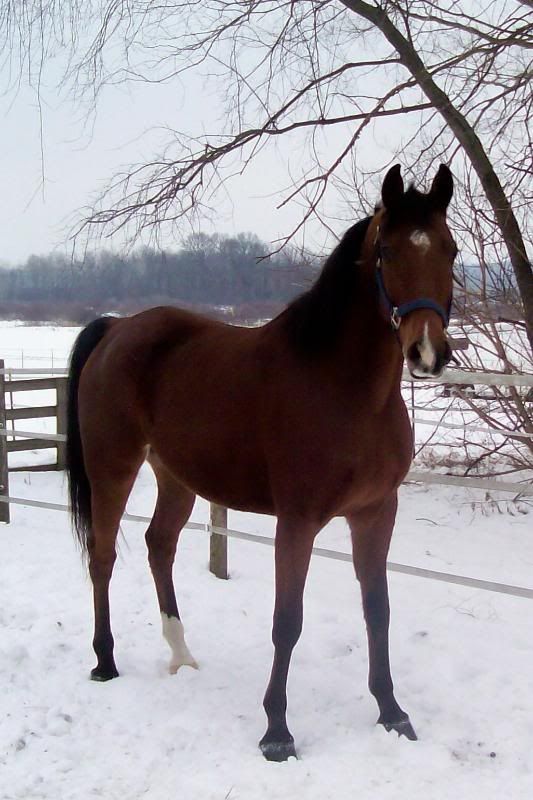 It was wonderful to show him off, and even better to see her ride him around and smile a little bit. She deserves it.
I also was able to see my friend Beth's horse being worked with by someone else. She sure is a nice little mare. I don't have photos of her, but I will get some soon. You can visit her at her blog, too, http://fearlessriding.blogspot.com/ . We met in high school many moons ago, and I'm proud to be her friend.
And, then there was Dancer. What a booger she was! I started this mare lightly under saddle as a 2 year old, and have tried to make things interesting for her ever since. She's a BIG girl, so when she doesn't wanna do something, well... we don't do it. It's never been a problem before because she's a respectful and happy-go-lucky young lady...until last night. Squeeze for a trot = pin ears, toss head, and throw hip out at a balking halt. Bad Dancer. "Back up, Dancer" = pin ears, plant feet, toss head, sidepass. At one point, she got so mad at me for asking her to go forward with my legs that she struck out in slow motion with her left front leg, hitting the arena wall. Temper tantrum. No other words for it. So, I used reverse psychology and started praising her for everything she was doing right. Before you know it, we were trotting off happily. Little stinker. Well, big stinker. I've been working with her since she was 6 months old, so I can call her names if I want.
Baby Dancer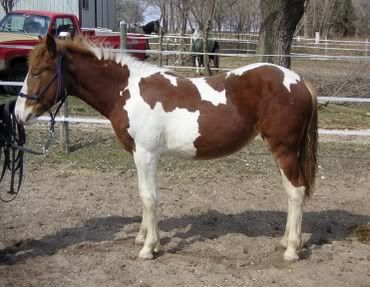 Anyway, before I get too off track...I'm very grateful for the opportunities to work with great horses and great people. And, even after getting stuck in the driveway for 20 minutes before I could leave the barn last night, I had that wonderful satisfied feeling in my gut and in my heart. Can it get any better than that???? Such rewards....